Road to GS1 Rwanda is an initiative of AIPI ( Access International Partnership in IT) a project between Rwanda ICT Chamber and the German IT based Association Bundesverband IT-Mittelstand e.V. (BITMi) with the support of experts from GS1 Germany have organized the third GS1 workshop.
To establish our own local  GS1 Member Organization in Rwanda for future progress, different stakeholders from manufacturing to the retail sector need to come together today as a community and jointly submit an application to the GS1 Global Organization in Brussel, Belgium.
To ensure that this is successful, we are at your side as a project team and with our experts from GS1 Germany to support you throughout the entire process. To achieve our goal, we have been holding several workshops and community breakfasts meetings so that you, as entrepreneurs, can gather information and organize together.
The recent concluded workshop was our third one in the journey of setting up GS1 Rwanda, more on the progress made so far and the what is required to achieve our goals can be found on website  AIPI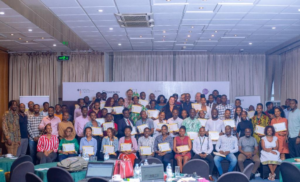 Picture :Business community who attend the third 3rd workshop were awarded certificates at the end of the workshop 
The third Road to GS1 Rwanda Workshop Happened on October 24th,25th 2022 and it was held at Hotel Des Mille collines. The workshop was so interesting, and interactive. The participants were top level managers and CEOs of more than 100 companies from different sectors like Manufactures, producers, logistic companies, exporters, as well as government regulatory institutions in Rwanda like FDA, among others…
Prior to this workshop AIPI team  organized  two community breakfast meetings and through these meetings, AIPI and flagship companies who volunteered in the previous workshops had collaboratively worked on both Business plan to be submitted to GS1 Global & Legal requirements to set up an new entity in Rwanda. Inputs from all the relevant stakeholders in the ecosystem were consulted with the goal to have a plan that capture the interests of all potential GS1 Rwanda members.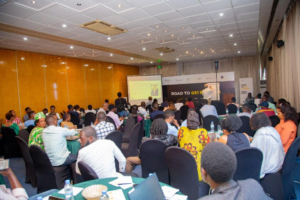 Coming back to the workshop, all these companies that attended the workshop  learned more about GS1 standards and shared their inputs on how GS1 Rwanda would benefit their businesses to access markets nationally and internationally. This whole experience convinced them that GS1 Rwanda will help their business to tap into new markets. GS1 Rwanda will not only help the business community to grow financially, but also sustainably and fairly. 
Another fun and engaging part of the workshop was games that broke the ice at the beginning of the sessions , group discussions and presentations from each group with great ideas. The companies were classified into 4 teams for the following topics: Environment, feminism, Job creation and Health care. The main intention of these topics was to help them to understand how GS1 Standards will help them to grow in those areas 
Going forward, on the last day of the workshop, together all companies elected 7 board members among the 100 companies who will represent them in this journey of application and setting up GS1 Rwanda. The elected companies were; Inyange Industries, MAGERWA Ltd, Kivu noir( Caferwa), Sawa Citi , Sorwathe Ltd, Plasticraft, Manshan Trading Co.Ltd.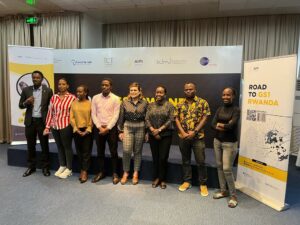 One of the speakers who represented other companies was Alex Shyaka, the CEO of Sawa Citi. He touched on many things including the challenges they face such as using no standardized or poor quality of the barcodes, unclear details of the products,etc.. He explained more of what GS1 will resolve in terms of traceability, visibility in the supply chain and most importantly this will put our products/ businesses on an international level.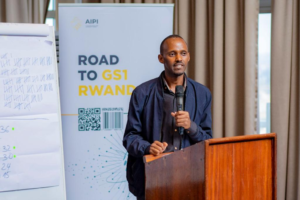 Alex Ntale, C.E.O of Rwanda ICT Chamber concluded the workshop with words of appreciation to the participants who attended the workshop and partners from Germany who have been supportive with financial support and mentorship in this journey of setting up GS1 Rwanda. "Rwanda ICT Chamber will stay committed to supporting all sectors of our economy to become digital enabled , and having a local GS1 member organization is going to be a game changer" he added as he concluded his closing remarks.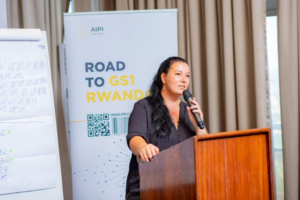 All companies that attended were invited and politely requested  by the Project director to assist in promoting this initiative via raising awareness in order to collect many signatures and to meet all the requirements/conditions that GS1 global suggests and with full documents, the application will be considered successful. They were promised that the AIPI team will do their best to support them throughout. 
For those who want to be part of this initiative of setting up GS1 Rwanda and getting barcodes in Rwanda among other service that GS1 Rwanda will offer are welcomed to reach out to us for additional details and information regarding Road to GS1 Rwanda initiative
Contacts us:
Email: info@aipi.rw
Phone number: 0781375971
Social Media Platforms (Instagram,Twitter,facebook and LinkedIn): aipi_ict_rwanda